Benefits of going to the cloud while dealing with Covid-19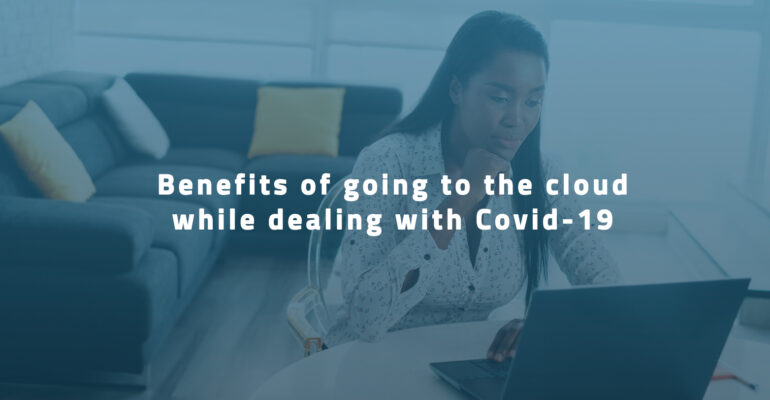 Benefits of going to the cloud while dealing with Covid-19
Cloud computing is a modern form of running applications or programs using the internet. In the old days, people used to run applications through software in their computers or servers installed in the buildings. Cloud computing has simplified the process and allow the use of the same applications through the internet from anywhere. For example, paying bills through the internet, booking movie tickets, using Facebook, etc. are all examples of cloud computing. Cloud computing improves business efficiency and offers numerous benefits.
Work from anywhere
One of the main advantages of the cloud is that it allows you to work from anywhere. All you need is an internet connection; a device and you are good to go. There is no need to connect any VPN software to your device. Many could services now offer mobile apps, so you are not even limited by any type of device you have.
Easy pricing plan
Cloud services offer an easy and affordable pricing plan that fits your business needs. You can choose from various from pricing plans and pick one that best fits the need of your business and employees. The best about cloud services is that you only must pay for what you need.
Security
Loss of data is like a billion-dollar loss to your business. Cloud computing provides you more security and allows you access your cloud data in case of any damage to your laptop or mobile phone.
Flexibility
If you are growing business and need to scale up your operations in the future, then cloud computing is the best option for you. It provides more flexibility and easy to increase the number of users or subscribe to any other plan.
Built-in software licensing
Most of the cloud services have built-in software licensing which means you will not need to purchase the software again. For example, if you subscribe to Microsoft office 365, you will not need to purchase Microsoft office again.
Low maintenance
Cloud servicing requires very low maintenance that means you don't need IT guys to maintain your servers and keep it up to date. Just a subscription and rest will be taken care of by the cloud service provider.
Easy to collaborate
Collaboration between teammates and clients is very important for every business. Cloud computing makes collaboration very easy with file sharing, editing, chatting, reporting features to create efficiency and transparency in the system.
Competitiveness
Cloud service makes your business more competitive by offering you enterprise-class technology. You can make faster decisions, disrupt the market, and compete with big giants by use of the latest technology.
NOT using cloud yet?
Contact our IT team to discuss the benefits of cloud servicing during the Covid-19 pandemic. Get in touch now before it's too late. Call us at 1-646-681-4848 or use the contact form to email us.
[stm_sidebar sidebar="527″]