How OmniPush provides IT Services to NYC Companies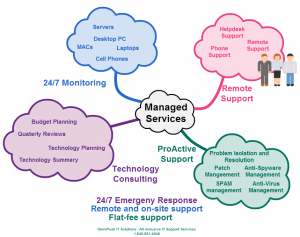 How OmniPush provides IT Services to NYC Companies
OmniPush is an IT support provider located in New York City, providing IT services to various clients for the last ten years. At OmniPush, we strongly believe in deliverance on our promises. The success of our company depends on the success of our clients. We have implemented a set of standard operating procedures to ensure the quality of our services remains consistent throughout our relationships with our clients.
We provide quality and economical IT support to our customers, by not just being an outsourced IT company but a business partner who seeks your greater interest. We believe that small businesses cannot afford any system failures, especially in cases where they are not equipped with a backup strategy. This is where OmniPush offers you services ranging from web development to cloud storage solutions and more.
Our area of expertise and the related services that we provide to clients include:
IT networking and 24/7 monitoring
On-site and online backup and Disaster Recovery Plan
Unlimited telephone support
Local on-site support
Email spam protection
Helpdesk support
Daily and weekly backup solutions
Customer satisfaction is our top priority. Our highly trained technicians are working diligently hard and making continuous efforts to get the job done according to your approval.
Looking for IT services in NYC? Feel free to contact us on 1 (646) 681-4848 or email us at info@omnipush.com. Our address is 833 Broadway, 2nd Floor New York, NY 10003.
[stm_sidebar sidebar="527″]